Clinical Areas
Neuropsychiatry Unit
Neuropsychiatry Unit
When research and clinical practice go hand in hand
The Neuropsychiatry Unit is an interface between the Clinical Centre and Champalimaud Research. It is a clinical structure of excellence for the diagnosis and treatment of mental and behavioural health, focusing on areas of intervention that are in line with the research developed at the Champalimaud Foundation.
Neuropsychiatry Unit
Improving behavioral and mental health
Specialised and personalised support
The Unit is composed of doctors, psychologists and other clinical professionals, as well as researchers who also work at Champalimaud Research, dedicating themselves to research and to furthering our knowledge about neuropsychiatric disorders, specifically mood, cognitive and obsessive-compulsive spectrum disorders.
The Unit's clinical intervention programme is also intimately linked to the Multidisciplinary Oncological Pathology Units. This translates into clinical interventions based on scientific evidence and focused on personalised monitoring of oncologic patients throughout the various phases of their disease and treatment. It also implies a close collaboration with all the professionals who work at the Centre, particularly at the level of acquiring communication and relational skills to interact with cancer patients and their families.
The philosophy of the Neuropsychiatry Unit is grounded in the conviction that close contact between clinical and research activities promote excellence in both health care provision and innovative research.
Professor Dr. Albino Oliveira-Maia, Head of the Neuropsychiatry Unit
Neuropsychiatry Unit
Pathology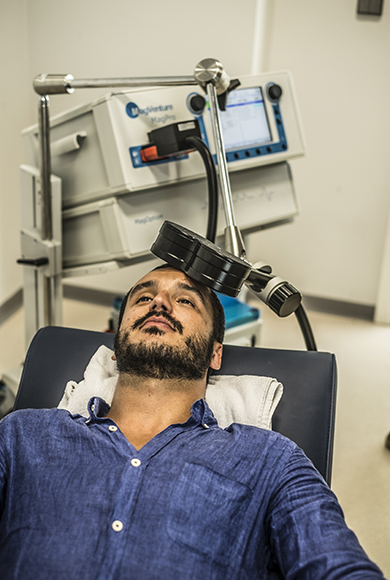 Mood, cognition and obsessive-compulsive spectrum disorders
The multidisciplinary team in charge of the clinical follow-up of these patients comprises psychiatrists, mental health clinicians and neuropsychologists, who work in close collaboration with nuclear medicine experts, neuro-radiologists and nurses. This team ensures high-precision diagnostics and a rigorous therapeutic orientation, in line with international standards.
Furthermore, the unit has established close collaborations with other international centres dedicated to the development of new approaches to the treatment of these disorders. Thus, patients who are resistant to conventional treatments may be offered access to innovative and experimental therapeutic approaches.
Since 2017, the Champalimaud Centre has been equipped with a Magnetic Transcranial Stimulation (rMTS) machine to treat patients with drug-resistant depression. The development of a structured rMTS therapeutic programme, in which people will be able to have access to treatment of psychiatric disease, is ongoing. Magnetic transcranial stimulation is an example of a non-invasive, painless technique, which does not require anaesthetising patients and has minimal risks in terms of adverse effects. It is an option for the treatment of drug-resistant depression, but also has the potential to be applied to other clinical situations.
Neuropsychiatry Unit
Pathology
Psycho-oncology
The psycho-oncology consultations at the Champalimaud Clinical Centre give transversal support to the various oncologic pathologies treated in all formally functioning units.
In specialised psycho-oncology consultations, patients receive support centred on the person and not only on the disease. Depending on the level of psychological distress assessed, a psychological follow-up plan is defined that often involves the patients and the people who care most closely for them, and who are directly affected by the disease. At every phase of the disease, the Unit's team provides specialised and personalised psychosocial support to help deal with all the emotional issues that inevitably arise when someone goes through this type of situation.
As an integral part of all Multidisciplinary Oncologic Pathology Units, psychologists specialised in oncology take part in the multidisciplinary meetings and actively contribute to defining the therapeutic plan to follow in each case.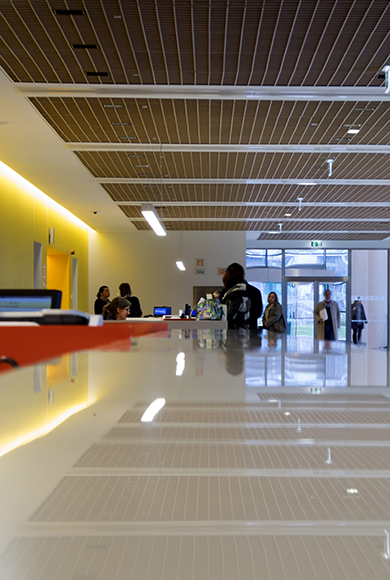 Neuropsychiatry Unit
Clincal Research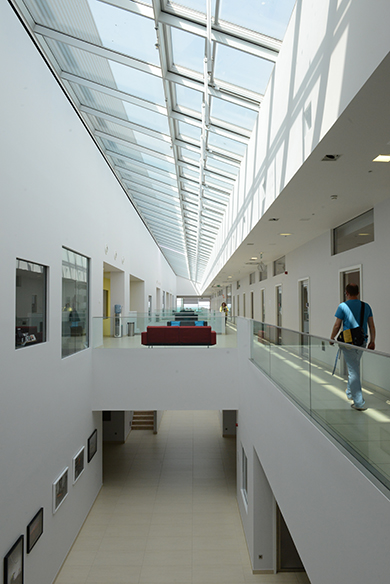 Research in the context of clinical activity
The scientific activity of the neuropsychiatry unit is developed by its clinicians and psychologists, in close collaboration with a team of researchers.
The Unit's medical body, together with its collaborators and researchers, pursues scientific and clinical research relating to Obsessive-Compulsive spectrum disorders (OCD). These research projects are developed in the context of the Unit's clinical activities and are mainly aimed at allowing a better diagnostic and neurobiological characterisation of these disorders, as well as the study of new therapeutic alternatives, both pharmacological and of neurostimulation.
Neuropsychiatry Unit
The Team